Failure to Thrive
Is My Baby Getting Enough?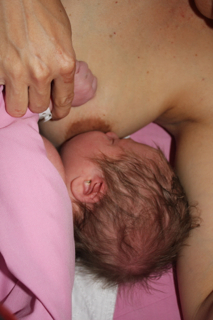 my baby's second breastfeed
One reason to start breast pumping is because of a worry about failure to thrive and/or low supply. One thing I find really important to help new mothers overcome is the worry about how much milk their baby is getting at the breast after they've seen how much their baby gets from a bottle.
There are lots of reasons for failure to thrive - things like reflux (true reflux, not just and unsettled baby), congenital deformations like a hole in the heart that needs surgery, tongue tie and poor latch, or PCOS and other hormonal problems leading to low milk supply, and so many more.
Part of addressing why your baby is failing to thrive is to have a definite diagnosis.  It is imperative that you work with your health professionals - whether it's the paediatrician or your personal doctor - whoever is looking after you.
Some excellent questions to ask are:
What is the reason my baby failing to thrive

What are the next steps I need to take to make sure they start to put on weight

How will I know if what I'm doing is working and if I need to change it

How will I know when to stop what I'm doing
If you are told your baby is failing to thrive because they are not getting enough breast milk you then need to assess whether it's because you don't have enough milk or your baby just simply isn't getting it out properly.
If you do have enough milk you will need to pump to maintain your supply while your little one grows a bit bigger/has their surgery done/gets better at breastfeeding.  You can use bottles to feed them any extra milk, but did you know you can also use a syringe or a cup or spoon too?!
If you don't have enough milk you will need to top your baby up.  Did you know that you can use what's called a supply line, or supplemental nursing system, to feed your baby the extra milk while they're breastfeeding?!
The awesome advantage of this is that they are still getting breast milk and all the benefits that it has, they are stimulating your supply and you don't have to spend extra time feeding them their bottle!
Most mothers will still need to use a breast pump to increase their supply as well (make sure this is something that is working for you.  Being stressed out is not conducive to making more milk.  Talk to your lactation consultant if you need to about various options open to you).
If you'd like to increase your supply by breast pumping (because remember breastfeeding on demand is easier if your baby is well enough to do it) then you might want to consider pumping every hour during the day for just a few minutes.

This will really stimulate your body. don't be concerned about how much milk is coming out, just know that you are really stimulating the production of milk. Breast pumping until you get a let down is about the amount of time you need.
To do this easily leave your pump in the fridge as it will save you needing to sterilise everything each time. You can then just wash and sterilise once a day.
I have two bottles (or more if there's more milk than that) sterilised and in the fridge with my pump.  I pump into the first one, then place everything back in the fridge to cool between pumps.
I then pump into the second one, cool it and pour it into the first bottle.
I then continue to use the second bottle until I have enough for a full feed or top up in the first bottle.
Good luck with your journey during this tough time.  It's quite stressful going through the worry that your baby is not getting enough. There are lots of support groups on the internet and  you will find that your lactation consultant will be very helpful during this time.
All the best x
Other pages you might find useful to help with failure to thrive: