Dec 16, 2013
Wow, I'm sooooooo hungry and tired!!!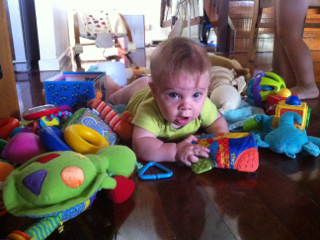 Man, the last few days have been tough! I've been absolutely exhausted, so much so that I cried when my little guy woke up! (It had only been a half hour sleep and I was banking on an hour...!)
Mr 4 months old has definitely just gone through a wonder week so has been sleeping less. With my first little guy I would have just slept during the day if I'd had a disturbed night but that just isn't an option when you have a toddler who isn't sleeping during the day.
So my average morning for the past 2-3 weeks is waking at about 3am to the sound of Mr 4 months grunting and generally trying to resettle. Waiting for about half an hour and then he makes an upset noise so feeding him, finally getting back to sleep around 4 am, then being woken 4:45 by my toddler (that's what time he's getting up at the moment, undersstandable given the sun is already up and the birds are noisy) so needless to say I am exhausted.
We have been making use of the extra time in the morning by exercising. I just started running.... Great but a big mistake with my little guy growth spurting and drinking more, my body was completely zapped of all extra energy.
I think I might slow it down on the exercise front!!!