Breastfeeding Stories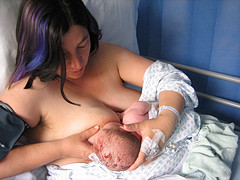 I love catching up with other mothers and hearing all their breastfeeding stories, it's such a beautiful part of being a parent. I'm always in awe of how generally our newborns are so capable and reflexive in their search for the breast and their latching on.
This part of the website is my own diary of those first few post-partum weeks and also gives you the opportunity to relate your own experiences, whether they be good or bad, whether you were supported or felt this time was the toughest you'd ever experienced.
I really feel too that so much time is spent getting ready for birthing and so little on initiating breastfeeding that it's a good place to get some ideas about the things that may go wrong and how I overcame them.
Some of the mothers I've met along the way had a relatively easy and blissful time and other breastfeeding stories were of these tough mothers gritting their teeth and showing as much courage as anyone could muster.
Sharing these experiences can help other pregnant women to prepare for what's to come, and new mothers to cope with and understand what they're going through, and I really hope my breastfeeding stories help other mothers like you to feel like you can get through the initial bumps in the breastfeeding journey.


My Breastfeeding Diary
Back to Breastfeeding Babeis home page
Do you have a breastfeeding
story to share?
Do you have a story you'd like to share? Whether it be good, bad, euphoric or depressed, every experience is one that is likely to be shared by someone else and can help other women prepare for their own breastfeeding journey.
What Other Visitors Have Said
Click below to see contributions from other visitors to this page...

My "Such a new parent" Breastfeeding Story!
I always find it funny listening to expecting parents or new parents who think that they will be able to fit their baby into their existing lifestyle. I think it's really uncommon to have such an easy time of it all.
My own breastfeeding story about this happening to a degree happened in the first two weeks. I was in a fair bit of pain from tearing quite a lot during the birth and so we went, as a family, out to get me to an acupuncture appointment.
Now I didn't do any kind of routine feeding with my baby, it was all breastfeeding on demand and we certainly didn't have any kind of pattern in those early days.
Anyway, the car lulled my little guy to sleep and we were a little bit early so we went and sat in a park to wait.
Time was getting close and my husband and I decided that it would be a good idea to give my little guy some milk before I went in because he was likely to wake up soon and I didn't want to leave a screaming, hungry baby with my husband if I didn't have to.
Well we tried to wake him up.
And we tried to latch him on....
And I tried to give him a feed.....!
So much for dream feeding (where you feed your baby a top up while they're asleep). It didn't work at all!! My little guy wasjust in too heavy a sleep to really open his eyes or co ordinate his suck and latch.
Ha Ha, deary me!
So we ended up with a screaming hungry baby and a stressed dad by the end of my appointment. At least we tried though!
Note: I never got dream feeding working - I think you have to get your baby when they are going into that lighter state of sleep to get it to work. however, in my opinion after watchin lots of different mothers talk about their babies sleep habits, it's really not necessary to top up your baby for overnight feeds. They are either good sleepers or they're not!
Back to Breastfeeding Babies Homepage from Breastfeeding Stories