Nursing in Public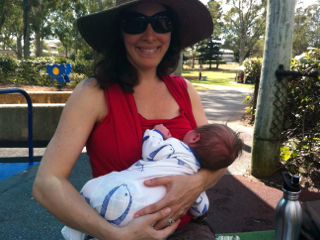 A fear of nursing in public is one of the most common reasons given by mothers who stop breastfeeding (apart from breastfeeding problems or milk supply), so I've made a few videos to show you just how easy it is to discreetly breastfeed in public!  The first shows a good nursing top, and the second shows how you can use a wrap to help you cover up.
This first one show you how when you have a good nursing top you can easily be quite discreet.
My top tips for getting this to work well are:
Get your bra unclipped and fold it under your breast before moving your top
To kee your bra clip out of your baby's face fold the cup in half and tuck it under your breast so the clip is pointing towards your arm pit
Get your baby positioned on your arm before you move your top to expose your nipple
Practice nursing in public discreetly at home before you try it out and about!!!
How to Use a Wrap to Be Discreet
So, in bullet point format to make it easier for you to remember:
Fold your muslin into a triangle
Anchor one point into your bra strap
Take the rest of the wrap around the back of your neck and around the point of the other shoulder
Have the long edge of the wrap going down along your forearm
DON'T just come straight over your shoulder, you won't be able to see whether your baby is latched properly!
Tuck the wrap into where your hand is supporting your baby
Allow the rest of the wrap to fall over your belly if you're going to lift up your top to breastfeed
Attach your baby
Hey presto, discreet nursing in public!
I didn't choose to use a wrap as my son got older, it really was just useful when he wasn't very good at latching on and kept pulling off all the time ad exposing me.
Once your baby gets good at latching on, you can practice at home a way of holding your hand so that it covers your nipple until your baby latches (this works particularly well with breastfeeding tops that pull up.  having the top part of your breast covered somehow makes it less obvious than a pull down type of top)
Ultimately I really feel that all mothers should be comfortable breastfeeding in public and it's such a pity that our current social culture really inhibits this.  I would love to see an acceptance of the natural breastfeeding relationship that meant no mother needed to use a wrap to feel comfortable, but if it means that more mothers keep breastfeeding for longer, then to me the cover has it's place in helping our babies get the best nutrition possible!
Back to Breastfeeding in Public from Nursing in Public
Back to the Breastfeeding Babies home page