Baby's Legs Over the
Mother's Shoulder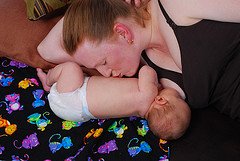 This is the least common breastfeeding position I've ever come across.  In fact, I hadn't ever seen a photo or video for it until I eventually found the one above on Flickr.
It's absolutely fabulous for clearing blocked ducts in the top of your breast and it's reasonably easy to do too!
So to do it:
Place your pillow a bit further down from the bed head and far enough into the bed so that your baby will have room for their legs and won't roll off the bed if you let them go
place your baby with their feet towards the top of your pillow and their head down to where your nipple will be
Arrange yourself on your side so that your breast is in the right spot, or move your baby a little (it's easiest if you have a towel under them so you can drag the towel - it will also catch any vomits)
Turn your baby on their side and gently guide them in from behind their shoulders
You want their head to be a little tilted back so they get a good attachment.  If it's not tilting back I find it easiest to move myself a little rather than trying to move their body
This breastfeeding position is great for blocked ducts in the top of your breast but will also sometimes help if you're getting some nipple pain and want to change the direction your baby is latching on from.
Would You Like to Learn More About Other Breastfeeding Positions?
Back to the Breastfeeding Babies home page