Breastfeeding Lying on Your Side
My first baby didn't breastfeed well with me lying down so i really had to think it through to get it happening.  When I did it with my second boy it was much easier!
Something that is crucial is getting their head in the right position so that they can open their mouth easily and your nipple isn't being pulled away from them.  It sounds easy to just line them up with your nipple but then you have to get it so they can tilt their head back a bit so their mouth will open up wide.
My tricks to getting breastfeeding lying on your side to work well are:
Use a towel underneath your baby.  It will catch any stray spew or help if the nappy/diaper leaks around their legs.  It will also make moving them around easier as you can drag it a bit
While you are still standing up, start by placing it lower than you expect to need it as if they are too high you won't have enough room for your head, but you can always be further down the bed yourself
Place your baby on their back so their head sits below where your arm will be
Place your baby slightly on an angle so their feet are closer to you than you want them
Get onto your bed and place yourself around your baby.  Move up or down to get your nipple in the right spot
Roll your baby onto their side, moving their bottom back a little once they're on their side - this helps tilt their head back a little
Move yourself again if you're not in the right spot
Use your hand to shape your nipple if your baby can't quite attach themselves
Don't be afraid to start again if things aren't working well. Move your baby's bottom around so that their head is in the right spot.  Pull on the towel if you need to move them up or down.
If they're really out of position you may need to get out of bed again yourself, but hopefully you will have yourself in mostly the right spot.
If you want to feed from the other side simply kneel and drag the towel across to your other side and get yourself up again.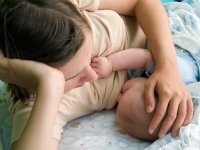 Making Sure The Sheets And Blankets
Don't Smother Your Baby
It was quite cold when I had my second baby and I was a bit worried about breastfeeding lying on your side as I thought it might end up with my blankets all over his face.
I got around this problem by wearing a zip up jumper to bed over a breastfeeding top.  This meant that it wasn't in the way of my nipple, which could be accessed through the top, but my arms and upper part of my breast was caovered from the cold.  This meant that I could keep the blanket below my armpit and it never covered his face.
Supporting Yourself So You Don't
Roll Onto Your Baby When You're Tired
When you are breastfeeding lying on your side it's really easy to fall asleep, particularly in those early days when you're waking up overnight so often and still healing from being pregnant and birthing.  I found it really uncomfortable to hold myself in position around my babies and worry about rolling onto them.  I also found that my hips were sore from lying on my side so much during the pregnancy so I wanted to get myself in a slightly different position.
I did it by placing a pillow behind my bottom and lower back that I could lean back into.  This meant that if I fell asleep I would roll backwards rather than forwards.
It also meant that my breast was a lot less on my baby's faces too which was good.  Even if you're not falling asleep, if you've got bigger breasts or they're quite full they can end up quite close to your baby's nose so it's nice to know you aren't suffocating them!
Would You Like to Learn More About Other Breastfeeding Positions?
Back to the Breastfeeding Babies home page