Cradle Position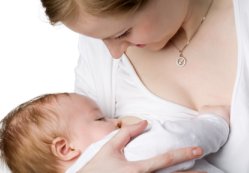 The most common mistake mothers make when using the cradle position is to have their baby too far across their body. This picture is an excellent example, to get a a really good latch this baby should be moved further to the left of this mothers body. This will improve the baby's ability to latch on because they will be able to tilt their head back a little.
The most important things to remember are:
Have your baby's nose in line with the nipple, not their lips
Keep your baby's body facing yours so that their neck is in line with their body
Don't restrict your baby's head movement, allow it to tilt back a little
To get a really good latch around the nipple you actually need to have it placed asymmetrically in the baby's mouth. This means that before your baby attaches you should have their head positioned so that the nipple is in line with their nose. For a newborn this often means that your baby won't be resting their head on your elbow, but instead further down your forearm just above your wrist.
Sometimes to initiate the latch with a newborn it can be easier to have them supported in the cross cradle hold as seen in the asymmetric latch video, and then switch to the cradle hold once they have achieved good attachment.
Holding your baby across your body can become very tiring. It is now commonly accepted that you can have your baby in a diagonal line across your body so that your arm is not tired too quickly during the feed. This position is also excellent for achieving baby led attachment which will . When viewing this video however, not that the mother doesn't have the baby positioned quite as well as she could. This baby is too high up the mothers body to allow easy drinking once they have attached.
Now to your baby's posture. Many babies being fed in the cradle position end up lying on their backs with their head turned at a 90 degree angle to attach to the breast. If you imagine yourself doing that for half an hour or so and how cramped your muscles become it is then not surprising that babies can become irritable during a feed.
So the first and most important thing to remember is to keep your babies belly facing your own. This should keep their spine in a straight line. You can check this in a mirror or get your partner or a friend to help you.
Secondly there is no need to hold the babies head in position. You just need to have their body supported so that their head is in the right position. Not holding the baby's head allows the baby to move into a more comfortable position if they are getting pain in their neck, and also allows them to suckle more efficiently, aiding you to drain all the ducts from that breast instead of just from one side so you can avoid blocked ducts and mastitis.
Click here for more detailed information about Breastfeeding Positioning and Attachment in the Cradle Hold
Would You Like to Learn More About Other Breastfeeding Positions?
Back to the Breastfeeding Babies home page