Breastfeeding Positioning and Attachment
So many mothers I see are having trouble with breastfeeding positioning and attachment.  I really commonly only need to tell them two things so I've created a video to help show you what I show my patients.
The advice I show in the video and outline below are what got my nipples pain free for breastfeeding in just 2 days!
My baby was just 2 days old when my nipples started getting blisters, which quickly changed to blood blisters.  Having experienced this with my first little boy I was keen to fix the problem quickly the second time.  The advice I've put in this video and page are the things my lactation consultant showed me which I think really made the difference.
So essentially:
For good attachment make sure your baby is able to tilt their head back
To do this make sure you haven't got them too far across your body and the nipple lined up with their mouth - you will know if it is when your baby finishes feeding and detaches.  Your nipple will be in line with either their mouth - not so good, or their nose - much better.
The other sign you may have them too far across is their nose gets buried in your breast - see the photo below
Your nipple should be lined up with their nose
For good breastfeeding and attachment in a newborn this means not having their head in the crook of your elbow if you're using the cradle hold(when you see and older baby breasfeeding they are so much bigger that they just take up more space on their mothers arm) it should be resting closer to your wrist - see the photo below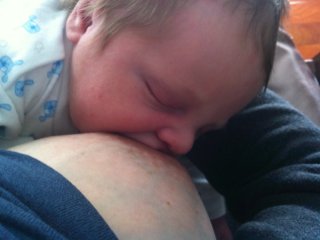 Don't hold their head into your breast with your hand, just help them hold it up, but allow them to bob back and forwards
Check which direction your nipples are facing - often they are different to each other and this means you may have to poisition slightly differently for each side to be able to get your baby's nose positioned properly
Another useful thing is to hold your baby so their belly is fully facing yours, rather than their belly facing the ceiling.  This helps them not have to struggle to hold your nipple in their mouth.  You can tell if you are doing it well because you won't be able to see the corner of their mouth (like in the photo above) whereas you can when they are rolled out (like in the photo below)
If you want to see a really good example of a baby who is struggling to feed because of poor breastfeeding positioning and attachment check out the twin breastfeeding video on the latching on page.  This baby is positioned too far across and is having to nod her head forward too much to be able to get a good attachment.
Roll your baby in towards your breast so that their cheek touches your breast and their body is flat against yours
If you are still struggling with attachment here are some other pages that may be helpful:
Baby Led Latch - this will help you get your baby's reflexes primed so they open their mouth wider and stick out their tongue further
Tongue Tie - does you baby seem to not be able to stick out it's tongue?  Maybe they have a tongue tie
Would You Like to Learn More About Other Breastfeeding Positions?
Back to the Breastfeeding Babies home page