Breastfeeding Day 1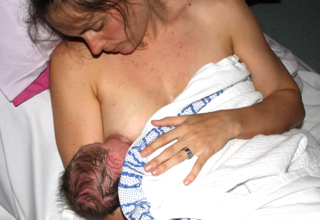 It's so interesting looking at my experience of breastfeeding day 1 this time around compared to with my first little boy.  Despite the labour being significantly shorter and easier on me my second little boy is still doing some really similar things to my first.
This time around he did manage to attach on his own (woohoo, I was so excited to be able to use a variation of baby led latch) which my first little guy was too tired to do, but he still did struggle a bit with the first time - I wasn't able to get him on the R side, it wasn't until I put him on the left that he managed to attach.
The thing that really interested me was watching how he had no idea that my nipple was in his mouth.  There I was with him in a great position to suck and he just kept bobbing and turning his head wildly.
That first feed seemed to go reasonably well, but any time I tried after that it was very difficult to get him to attach.  The midwives said that it's quite common for this to happen actually.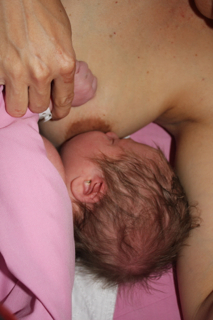 My main disappointment was not doing a full baby led latch.  I did actually place him closer to one side than the other and his legs weren't down my midline, but it was more in a variation of cradle hold, but I found that the proper baby led latch positioning was too painful for my uterus.
I did however allow him to find the nipple all by himself which is the main thing that you want to do.
At first it didn't work with the right breast so I ended up switching him to the other side.  The reason I decided to move him to the other side was because although my nipple was within his mouth he wasn't closing his mouth and sucking on it (check out my day 5 diary entry - my Lactation Consultant explained why that was happening).
So we used the left side successfully.
After that first feed though there was a lot of bobbing of his head and turning side to side even thought the nipple was in his mouth.
Once he was on though everything went reasonably well with him definitely drinking some colostrum.  My nipples were a little sore by the end of the day though.

My Breastfeeding Diary
Back to Breastfeeding Babeis home page