Public Breastfeeding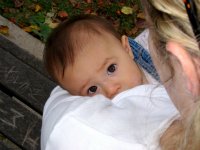 I have to get comfortable with public breastfeeding because it is finally time to go out and do some activities outside the home. Prior to the birth I'd thought about this a little but it doesn't compare to actually doing it. It's a difficult subject because I believe that it is the most natural and wonderful thing you can do for baby, but after spending at least twenty five years of my life being told to cover up my breasts (this could be longer, I can't remember how old I was when this started) I've got a lot of mental conditioning to get over.
Two other factors aren't helping me. One is that I haven't grown up around extended family and so therefore haven't really been exposed to women nursing in public and the other problem is my husband is very much for staying covered up while feeding. This means when I'm out with him I'm exposed to his stress while I desperately try to get my little man attached.
In the end I tell my husband that I can't feed with a cover over me during public breastfeeding at this stage because it makes attachment too difficult while I'm learning how to breastfeed and that I have too much damage to my nipples to be getting it wrong at this stage.
I find that after this initial time it's easier. Some places I'll use a cover later on but really, no one is watching me most of the time, and with the right clothes I can be quite discreet. Also I've seen a way to use a muslin wrap where you tuck a corner of it into the bra strap on the shoulder from the side you're not feeding from, wrap it around your back and drape it over the other shoulder, breast and bub which makes it easier to keep in place. Covering up at first is certainly not something I want to do though until I know he's good at feeding without any help from me.
Feeding in front of my father in law however, that's another story. Somehow public breast-feeding isn't so bad because I'm not around anyone I know, but feeding around male family members other than my dad is really challenging for me. They are all excited about this brand new baby, which is lovely, but some of them don't realize how uncomfortable it makes me feel to have them staring at him while I'm trying to feed. I decide not to do this in a public space, but instead to go to a bedroom. 


My Breastfeeding Diary
Back to Breastfeeding Babeis home page